You q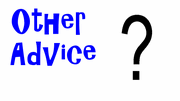 uestion doesn't fit the Love, School, Bullying, or Friendship category? Well, here the other members of Anubis News are willing to help you. Your advisor can be Fabian, Alfie, Patricia, Jerome, Trudy or even BlueFlamez. Your question determines who answers it. Go Ahead and leave a message right now. One of us will
definantly
answer. Currently, BlueFlamez is running the Other Advice. The other advisors will still be able to answer though.
BlueFlamez
Fabian
Alfie
Patricia
Jerome
Trudy
This Week's Question
Edit
Question From Z!: I like pie! What should I do?
Answer from BlueFlamez: Enjoy pie. Eat it whenever you think is a nice time to eat pie. Just don't eat too much or you'll get a big belly.