Hey, it's Nina here! On this blog, I will be blogging about my life and a little bit about horses, my favorite animals. I hope you read my blog and comment! Enjoy!
Growing up in America, I never had much to do, considering I lived on the outskirts of a small town.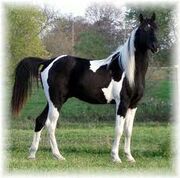 Horses were pretty much all I had, I would always ride my horse when I would get bored, which was most of the time. My very first horse was named Blosson, and she was just about the friendliest horse ever! She was a black and white paint horse, and I loved her! She was my best friend, and we would spend every afternoon together. I left her back in America with Gran when I had to come to boarding school here, Gran says she's getting old, but she is still as healthy as ever! Gran sent me a picture of her last month, and it reminded me of my childhood. I miss Blossom a whole lot, but I know I'll be seeing her in just a few months, for the summer!
I'll tell you all about our adventures together next time! Until then!